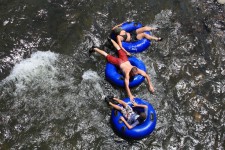 News
-
updated: May 15, 2018
Paddling season has arrived in Pagosa Springs! Get in on the best kayaking and rafting action in southwestern Colorado.
Pagosa Springs, Colo (May 2018)—Whitewater enthusiasts can paddle, play and practice skills on the San Juan River, which runs right through the heart of Pagosa Springs. The hot springs town located in southwestern Colorado is an aquatic playground with plenty of opportunities to make a splash.
As the weather warms and the snow in the high-country melts, river flows are at their highest and fastest during the months of April and May when the paddling season kicks off. As a result, boaters experience some of the most exciting whitewater early in the season. As the flow rate tapers off and stabilizes in early to mid-summer, the San Juan River becomes more serene and is ideal for fun tubing or floating through some of Colorado's most jaw-dropping mountain scenery.
Kayaking in Pagosa Springs
There are multiple challenging whitewater kayaking routes in Pagosa Country, including the box canyons on the Piedra mentioned above. Mesa Canyon on the San Juan River is another route with similar demands. For kayakers who want to work on skill building, water features throughout downtown Pagosa provide an excellent place to practice. A series of waves start just south of the First St. Bridge are highlighted by Davey's Wave (for all to see) in front of the Visitor Center and finishes up with a wave by the gazebo at Yamaguchi Park for a complete ride.
Pagosa Springs has several locations where kayakers can easily put-in and take-out. One conveniently located take-out is close to a wild hot spring or "hippy dip," a free, in-river hot spring that's a perfect spot for a quick warm up.
Rafting in Pagosa Springs
Pagosa Springs is home to several rafting companies that offer a variety of river trips; they range from beginner outings, perfect for families, to more challenging intermediate options and advanced whitewater excursions. Depending on the cfs (cubic feet per second), rapids in Pagosa Springs vary from calm Class I to a rowdier Class III.  Pagosa's whitewater outfitters often conclude trips with a finish through the downtown stretch.
For a ride on the wilder side, book a trip on the Piedra River, which requires aggressive paddling through churning and challenging whitewater. The hard work and effort is worth it —the Piedra courses through breath-taking box canyons and past magnificent scenery.
Early season whitewater in Pagosa Springs is some of the best in Colorado. Make a splash this spring and find out more at www.visitpagosasprings.com.
About Pagosa Springs
Surrounded by the Weminuche Wilderness and the San Juan National Forest amid the majestic San Juan Mountains in Southwest Colorado, Pagosa Springs offers visitors a rich geological and cultural history to explore. Known for its world-famous hot springs, "Pagosah" is the Southwestern Ute word for "healing waters." With its official designation as the "Deepest Hot Springs Aquifer in the World," the Mother Spring fuels three downtown hot springs locations. In addition, the soaring cliffs, ragged peaks, magical alpine pools, undisturbed wilderness, and cascading rivers reveal a dramatic geological history that invites voyagers, young and old, to venture into Pagosa Springs' backcountry. For more information, please visit www.visitpagosasprings.com. For the online media room, go to https://pagosaspringsco.newswire.com/.
Media Contacts: 
Jennifer Green, Director 
Visit Pagosa Springs 
105 Hot Springs Blvd., PO Box 1859 
​Pagosa Springs, CO 81147 
970-903-9728 
sales@visitpagosasprings.com  
or
Patsy Popejoy, Communications Director
Resort Trends, Inc. – tourism communications
317-509-7384
patsy@resorttrends.com