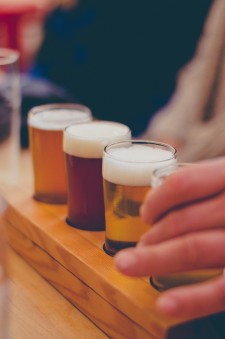 News
-
updated: Jan 31, 2018
Colorado is known for housing hundreds of microbreweries. In Pagosa Springs, craft beer is something to seek out, sip, and sample.
Beer is beloved. In Colorado, microbreweries have popped up all over the state, offering their original twists on brewed beverages. In Pagosa Springs, two craft breweries leave beer enthusiasts wanting more.
Riff Raff Brewing Company. Located in downtown Pagosa Springs, Riff Raff Brewing Company is a must-stop beer shop. The menu rotates six of their own Flagship beers, five seasonal taps, and several guest brews, and has an inventive food menu with twists on classic bar fare, with the likes of yak, goat, and lamb burgers. Riff Raff utilizes geothermal water throughout the brewing process, operating under an environmentally friendly practice, keeping true to their motto: "Hoppy beer, hoppy people, hoppy earth." View what's on-tap here.
Pagosa Brewing Company & Grill. With award-winning beers and a full menu, Pagosa Brewing Company & Grill has it all. The brewery greets guests with a flavor profile beer list, with the likes of local favorites like Peachy Peach, Powder Day IPA, and the gluten-free Pagosa Pale Ale. With everything from barrel-aged beer to home-brewed root beer, Pagosa Brewing Company has a little something for everyone—sign up for a tour today.
Find out more and make plans to visit Pagosa Springs this summer.